We are a small family company (father Lubomír, son Tomáš and daughter Martina Magdaléna) having been engaged in vine growing and production of distinctive great wines for several decades. I myself have cultivated vine sing 1986 and produced high quality natural Moravian wines since 1996, since 2000 on professional basis. I am a member of Union of Aenologists of the Czech Republic, chairperson of Velká Vína Velkých Vinic / Great Wines of Great Vineyards association and together with my son we are members of COLLEGIUM VINITORUM organization. We cultivate 3 hectares of our own vineyards and viticulture and winegrowing are our big hobby. We endeavor to produce wine as unique and inimitable great natural drink.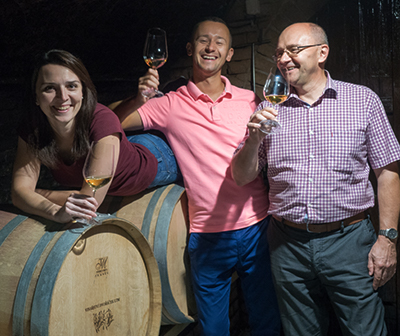 "Trying to make distinctive and large wines while humbly learning on daily basis from the best winemakers and other colleagues is a lifelong challenge for me."
Lubomír Dvořáček
Share the unrepeatable experience of guided wine-tasting in Vinařství Dvořáček LTM, s.r.o. with your friends.
Explore the current offer of Vinařství Dvořáček LTM, s.r.o., you can order any wines directly in our eShop.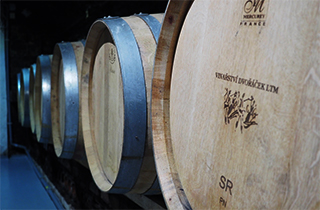 Take advantage of the opportunity to taste, choose, book and subscribe to young, yet emerging wines that have not yet been bottled or released for sale.
Our Pinot Noir Stará hora 2020 won the competition "For the Cup of Charles IV." award for the Best Wine of the Pinot Noir category. Our Merlot Stará hora 2020 from the same vineyard won a gold medal. Further confirmation that the location and the varieties from it, as well as our method of pruning and our own wine production are the right winemaking strategy
We have a gold medal at the SG 2015 reserve – Concours Mondial de Sauvignon 2021 and the best Sauvignon in the whole category
At the world competition Concours Mondial de Sauvignon held in Brussels this year, in the competition of 1,200 Sauvignons from around the world, we won a gold medal at Sauvignon late harvest semi-sweet reserve 2015. At the same time, this wine was evaluated as the best Sauvignon in the semi-sweet category.
We donate wines to the Kyjov Hospital, p.o.
Based on the consent of the Council of the South Moravian Region and the subsequently concluded donate contract with the hospital, we send another more than a thousand bottles of our wines in the amount of over 216 thousand. CZK to Kyjov Hospital, p.o., as a gift to employees during the Covid-19 pandemic. The wine pallets are ready for shipment. We wish doctors, nurses and other healthcare professionals at least a few pleasant moments of relaxation with our wines during these difficult times.
Fairies Foundation for Children
For several years now, we have been a VIP sponsor of the Fairies for Children Endowment Fund, which was awarded the Ď Prize in 2020, which is awarded to benefactors, patrons and moral role models of the Czech Republic. We are currently handing over our next gift in the amount exceeding CZK 50,000.
We keep helping
Today, we shipped another 15 pallets with more than 8,500 bottles of our adjective wines worth more than CZK 1.5 million as a gift to doctors, nurses and other healthcare professionals in hospitals across the country.
Perhaps with this gift we will support them at least a little in their exhausting and long struggle with the insidious virus.
We believe that they will win in as many partial battles for human lives as possible!
We help
Due to the epidemiological situation, we decided to help at least somehow before the end of 2020 and donated more than 1,800 bottles of our wines worth more than CZK 400,000. Unfortunately, the situation is not improving, so we will continue in our work.
Perhaps the recipients of our wines will experience at least some pleasant moments in this, for all such a difficult time.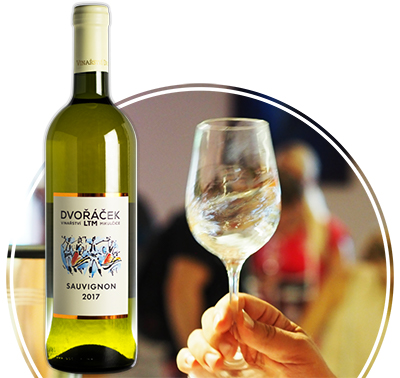 VIP Club box
New for the members of the Winery Club: Besides the standard autumn Club box, which we will start distributing in the coming days, this year we offer the members of our Winery Club another Club advantage. Build your own VIP Club Box of any of our wines, which will be delivered to you together with the autumn Club Box with a 20% discount, of course with free shipping as usual. The 20% discount also applies to our wines in magnum bottles in gift wooden boxes, which can also be ordered as part of this action, even individual pieces. In the order form in the eShop include the note: "VIP Club Box"